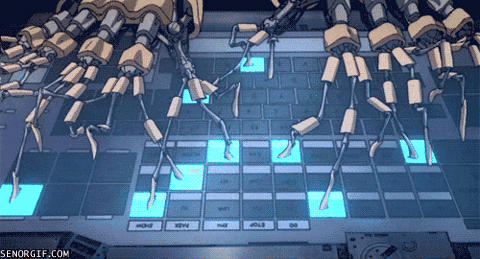 omg this is the first new post I am sending out via the new platform! I am nervous and typing as intensely as the gif above! no really!
thank you all for being a part of this project. I am really happy with the move so far, though I am still ironing out the kinks. and I'm excited to roll out some new stuff in the coming days thanks to the flexibility I have with the new website. this is also a great time to join the Discord server as I'm gonna be hanging out in there a bunch more these days and making some sparks happen!
I don't have too much fluff to say this week as I've just moved back into my home studio again finally (ugh! pandemic!) and I'm pretty wiped out, but I'm thankful for all u readers, and especially grateful for the paying subscribers and donors who made this migration directly possible!
💖
resources!
everyone seems to be sharing this syllabus for watching Halt and Catch Fire by Ashley Blewer, and with good reason. it's designed so that you can create your own "watching club" and discuss the real history behind the series. this sounds like an excellent way to spice up your lockdown evenings with something a little more substantial than your typical Netflix party with friends. check it out!
Raspberry Pi has a new $4 (!!!) microcontroller that sounds extremely exciting for certain use cases. this review by Tom's Hardware does a nice job of running through the pros and cons of the new board, and is worth a read before you get too excited an bulk order a bunch.
this story by Samuel Arbesman is a nice introduction to the wild world of vintage computer magazines that have been archived online for your perusing pleasure and why they are worth your time. if he doesn't make you curious to dive into an archive.org rabbithole for inspiration, I don't know what will.
this tutorial by Kilian Valkof starts out with a seemingly simple idea - recreate the Porky Pig outro of a Looney Tunes cartoon - that turns into an excellent showcase of the kind of clever CSS backflips you can do to create a pure CSS solution to a messy task.
this essay by Camille Fournier has a pretty business-oriented perspective, but the concept of making boring plans can apply to your creative work as much as it can to a commercial software product. the exciting part of your work should be the vision, not the execution! a boring, well-planned execution saves your energy and creativity for the stuff that really matters.
educational opportunities!
Code Cuisine's first workshop of 2021 is a collaboration with Ladies, Wine & Design Amsterdam on the theme of "Pinot Codio" (you know I love a pun) on Saturday, February 6. this will be a 2-hour remote workshop where you'll learn just enough coding basics to draw the "dish of the day" with JavaScript. learn more and get tix here!
Cuna is back with a bunch of new programming for 2021, starting with a free performance on February 6 with artists Claude Heiland-Allen and Lauren Netz. upcoming courses include "Ecoativismo Fotográfico: Conservación de las Especies" and "Future Studies & DIY Solar Panels: Sci-Art International," both starting next month! check out the full line-up here!
School of Machines, Making & Make-Believe has just announced their programming for 2021, and it looks pretty flippin' great, and includes their first Spanish-language programming! I highly recommend checking out the full list of programming here and signing up for something if it fits your schedule!
open calls!
Plotter Pen Pals is seeking... pen pals! the plan is to keep a bunch of old HP plotters busy with a good purpose, namely sharing vector artwork with new friends! the first round of submissions are due by January 31, so get on it if you'd like to participate by sharing your vector art here. what a cute way to kick off your year with something collaborative!
the Prix Ars Electronica is open for submissions for 2021, with the categories Computer Animation, Artificial Intelligence & Life Art, Digital Musics & Sound Art, and "u19 - create your world" for creators under 19 years of age. submissions aren't due until March 3, but take a look at this one now to wrap your head around it here.
LACMA has an open call for their Art + Technology Lab grant program. they're looking for projects that can engage with the museum's audience, while going beyond the traditional in-gallery experience. there's also a preference for projects that explore emerging technology, but prior technical experience is not required. applications aren't due until February 25, but this one requires some real planning so get on it! learn more here.
Ender Gallery is partnering with the MacKenzie Art Gallery, with curators Sarah Friend, Cat Bluemke, and Jonathan Carroll, to host four Minecraft residencies in 2021 that include an artist fee of 1600 CAD. applications are due by midnight CST on January 31. learn more here!
Global Game Jam 2021 is this weekend, January 29-31! people of all skill levels and experiences are invited to join and collaborate on making a new game based on a shared world-wide theme in 48 hours. learn more and register here!
China Residencies is hosting an open call for people who work with all kinds of media to apply for a fully-funded, 6 month remote residency in 2021, and are welcoming proposals of media arts and mediated projects connected to mainland China, Hong Kong, Chinatowns, and the greater Chinese diaspora worldwide in some way. learn more and apply by February 9 here.
upcoming events!
tomorrow, Jan 27! 8:00PM UTC+1! LIMA Online presents the self-proclaimed 'Famous New Media Artist' Jeremy Bailey in conversation with Simon Sakhai tomorrow to talk about Bailey's The You Museum, a online museum that invites the viewer to personalize the art in a critical reflection on consumerism and the art market. subscribe to LIMA's Youtube channel to catch the livestream!
Thurs, Jan 28! 6:00PM UTC+1! this second session of Playing with Method: Game Design as Ethnographic Research will focus on how games might use play to transgress the boundaries of academic disciplines and reinvent what research might mean. heady! this sounds relevant to anyone interested in how to use play as part of their practice. learn more here!
Sat, Jan 30! UTC-8! Making the Invisible Visible is an all-day immersive artist showcase to inspire planetary cooperation. hoo boy we need more of that. the experience will feature performances, talks, and discussions, including two immersive exhibitions designed in partnership with Gray Area. learn more & get tix here!
also Sat, Jan 30! 3:00PM UTC-5! if you'd like to learn how to provide file sharing services by creating your own networked file server, this workshop from Tech Learning Collective is for you! who doesn't need a private way to share stuff with their family, friends or colleagues? learn more and register here.
sales end January 31! do you like interactive fiction, alien abductions, and smelling things? Twitch and Sniff Along will present Leather Goddesses of Phobos every Monday in February, so be sure to get your tix ASAP in order to get your scratch and sniff cards in time! learn more and get your tix here!
just for lulz!
(source code available here.)
* ~ housekeeping ~ *
this is the first issue on the new delivery system, so please lmk if you had any issues this week (emails going to spam, stuff looking funny, etc.). you can now check your subscription status & see subscriber only content (well, in the future) by signing in with your email here.
if you have anything in the works that you are excited about (an event, a workshop, a new project), please send me all the details. if you wanna share links or chat, there is now a Discord server that you can use here.